ATLANTA (January 21, 2020) – The American Transaction Processors Coalition (ATPC) today, announces the launch of the Payments Processing industry's first young professionals program. The ATPC is a government relations and economic development organization supporting payments processing industry visibility and growth, which is why the "Future Leaders" program expands industry knowledge, creates onramps to government and regulatory engagement, and develops leadership skills.
Future Leaders identifies and educates rising professionals primed to lead the Payments Processing industry across technological, institutional, business development and workforce portfolios. This year-long program is comprised of multiple networking and educational activities to enhance future success of ATPC member and sponsor company young professionals. The inaugural class schedule includes:
Leadership 101: Tuesday, February 25th (Atlanta)
Government 101: June 2nd and 3rd (Washington, D.C.)
Technical Expertise and Graduation: Wednesday, August 12th (Atlanta)
"The Future Leaders is an idea that germinated with our staff and board discussions about industry diversity and inclusion and grew into a plan for empowering the next generation of payments processing industry stars," said H. West Richards, ATPC Executive Director. "Developing leadership and technical skills is an important endeavor but we also wanted to ensure that class participants gain understanding and experience educating elected officials and regulators who shape our industry – after all, that's the mission of the ATPC."
The Leadership and Management class will cover listening and communicating, teamwork and collaboration, ethics, project management, diversity and inclusion, and management skills. The Government 101 session is designed to help participants understand the legislative and regulatory processes at the federal and state levels, and wraps-up with participants walking the halls of Congress during the ATPC's annual Capital Hill Fly-In. Technical Expertise is the last class, covering the latest Payments Processing and FinTech industry developments, with topics like: industry fundamentals; payments 101; the issuers perspective; the merchants perspective; cybersecurity; and future of payments. Each class will be taught by industry executives, Georgia University System faculty and other issue experts to ensure that the participants learn from and network with the leading Payments Processing voices.
Inaugural class participants include:
Nathan Taylor, Senior Director of Finance at NCR, based in Atlanta, GA
Christopher Brown, Manager of Agent Sales at Paysafe, based in Largo, FL
Meet Patel, Software Engineering Manager at NCR, based in Atlanta, GA
Dusty Kugler, Director of Finance at ACI Worldwide, based in Omaha, NE
Brian Maloney, Manager of Partner Training at Paysafe, based in Charlestown, MA
Erin Barbeau, Strategic Initiatives Office Strategist at FIS Global, based in New Berlin, WI
Michelle Rizzo, Senior Marketing Manager at Paysafe, based in Boston, MA
Future Leader participants come from ATPC member and sponsor companies and must be recommended by two industry executives. The organization worked hard to ensure that Future Leader participants represent diverse backgrounds and skillsets, have enthusiasm for the industry, and aspiration for leadership opportunities. Applicants must be between the ages of 25 to 35. This is one of the most robust and comprehensive programs being developed of its kind in the industry. This inaugural class will be the benchmark from which future programs will be shaped and expanded.
About the ATPC
The ATPC was created to protect, promote and preserve the interests of this critical Georgia industry through proactive public relations and government affairs activities. Current activities include federal government relations, state government education (in Georgia, North Carolina, Florida and Ohio), PeachPay and the Transaction Alley Cyber Forum.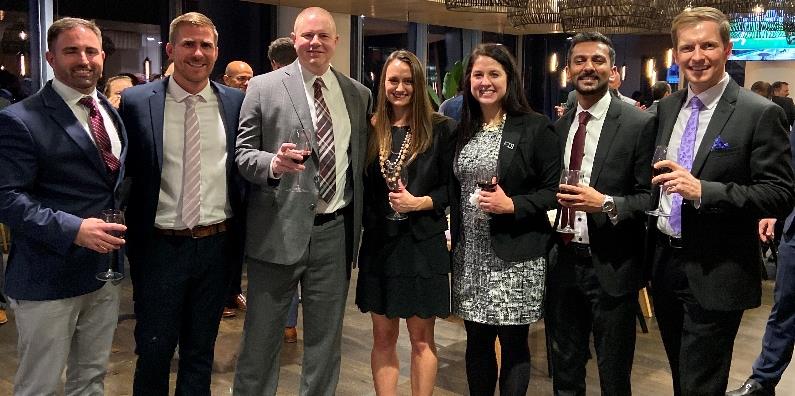 Inaugural Class Participants (l to r): Christopher Brown (Paysafe), Brian Maloney (Paysafe), Dusty Kugler (ACI Worldwide), Michelle Rizzo (Paysafe), Erin Barbeau (FIS Global), Meet Patel (NCR), and Nathan Taylor (NCR)